Here's some frequently ask questions by others. By reading these page may save you some time waiting for your pm or email to be replied since we're live in different time zone and I may not be able to respond you immediately but still I will reply every pm/email reached my inbox :).
1. Apa beza Pre-Order dengan Ready Stock?
Pre-Order bermaksud item tersebut perlu di order dari supplier sebelum I boleh pos item to you. It might take 3-7 days untuk item ni ready to be shipped to Malaysia or wherever.
Ready Stock pula bermaksud item memang ade dengan I. I do keep stock of some item. Items ready stock boleh di pos immediately after you have clear the full payment.
2. Kenapa Pre-Order perlu 50% payment or deposit sebelum barang di pos ke Malaysia, tak boleh ke I bayar once item semua ready?
First of all, I will not run with your 50% deposit. I have my personal information in facebook etc and I've been doing online business since 2007. I do want to keep a good reputation, feedback and gain trust from my buyer.
Second, the 50% deposit will be use to order whatever pre-order item that you order and top up with my own pocket money :) of course.

Because I trust every customer who order and pay 50% deposit will definitely make a balance payment (BP) once item ready to be shipped to Malaysia :). I value my customer as how I want to be value if I buy from others :)

Third, I want to avoid last minute backout buyer :). Once you paid the 50% payment means that you're serious about the deal we make.
3. Kain-kain yang you jual ni kain apa?
Mostly kain yang I jual ialah kain american cotton. Bukan japanese cotton tapi macam japanese cotton dan bukan cotton viscose or french viscose or what ever viscose yang ade lah heheheh.
4. Berapa bidang kain-kain ni?
44" to 45" inch unless I stated otherwise.
5. 1 yard sama dengan berapa meter?
6. Kain-kain nih boleh buat baju kurung ker?
Boleh. Kalau pernah and suka pakai baju kurung kain cotton it'll be great for you. Tapi kalau tak pernah pakai baju kurung cotton, you may one to think twice sbb tak semua org. suka pakai baju kurung cotton. Just my 2 cents :).
Definitely great baju kurung for kids :D and ppl definitely give a compliments hahaha!
7. Berapa yard utk baju kurung dewasa?
4.5 yards = 4m (ade lebih sikit kain)
8. Berapa yard utk baju kurung kids?
2-3 yards bergantung pada umur budak :). Ask your tailor berapa meter perlu and convert to yard :).
9. Kenapa jual by yard ? Tak pakai meter kan senang?
Kedai kain in US potong kain by yard, depa tak pakai meter. Metric system US tak same macam kite kat Malaysia. So kene lah ikut sini nyer metric untuk senang kire harga barang.
10. Apa itu Fat Quater Set and Jelly Rolls?
Fat Quater set bermaksud beberapa kepingan kain bersaiz 1/4 dari 1 yard kain = Approximately 18" x 22". Best for quilters dan ppl who are creative and like challenge in their sewing project :D u can make patchworks, bags, skirts, dress, kids apparels out of fat quarters. Click here to see what other people come out with their fat quarters.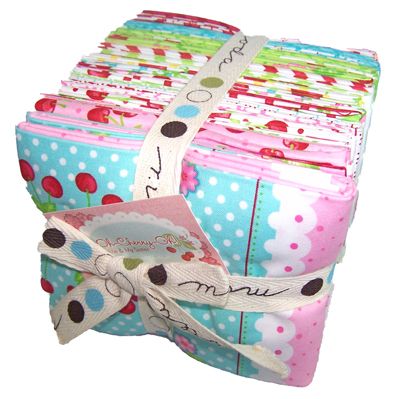 Sample of Fat Quarter Set /Bundle
Jelly Rolls are collections of 2.5" x 44" strips of fabric. They typically include 40 strips of fabric but can vary. Nak buat apa perca kain mcm ni? Haa...click sini to see what other do with jelly rolls! You will be amazed.
Samples of Jelly rolls
11. Berapa shipping cost to Malaysia?
Priority Mail® International Flat Rate Envelope
RM42.00
Size Envelope 12.5" x 9.5"
Maximum weight 4 pounds (approx. 1.8kg)
Duration: 7-14 days
Can fit up to 7 yards cotton weight fabrics or 5 yards home deco fabrics.
Or
First-Class Mail® International Large Envelope/ Package.
Range from RM20-RM40
Duration: 7-14 days or vary.
Charges will be based on the total weight of your items based on USPS rate.
I'll will always find the cheapest USPS rate to ship the items to your address.
The best option if you buy less than 3 yards fabrics.
USPS Insurance for parcel is available by request and buyer will have to pay the insurance coverage. It will be based on your item total value.
12. Apa tu parcel insurance coverage dan custom fee?
Insurance ni untuk keselamatan parcel, in case kalau parcel missing, kita boleh claim certain amount based on total value yang I declare masa isi custom declaration form. Insurance will be calculated by USPS. Buyer will be informed about the amount of insurance that need to be paid before I ship the item. Biasanya taklah semahal shipping cost.
Custom fee is charges yang dikenakan boleh pihak Kastam Malaysia. It's what they call Duti Import. If parcel you kene tahan kat Kastam biasanya sebab your item value more than RM500 (termasuk shipping cost + insurance from US to Malaysia). So untuk mengelakkan parcel di tahan, I tak galakkan satu parcel value item lebih dari RM500. Kalo lebih I cadangkan split dua parcel. Believe me, I've gone through this time prob twice when I bought items from US last year. I knew the hassle and your cost incurred beyond your control. Better bayar shipping cost for another parcel lebih murah. If I'm not mistaken fabric import duty is around 20%-15%, new apparels with tag is 30%. After the 2 incident with custom, I managed to buy item from Gymboree.com & Ebay US, Hong Kong, China without my parcel being held by limiting the value of item below RM500 termasuk shipping cost + insurance charge by USPS and parcel safely reach my address by Mr. Pos Malaysia. I will do whatever I could to avoid your parcel being held by custom by not under value your items, filled the required custom declaration form and declare whatever that need to be declare correctly. At any circumstances, your parcel is held by custom, it's beyond my control and you'll have to bear any import duty cost.
13. Apa itu sewing pattern?
Sewing pattern is a piece of paper that have lines drawn by fashion designer/sewers as a guide for you to sew something. Those line indicated the measurement, part and size of your sewing project. Senang citer mcm template. Your will have to trace the size u want and make it as a template before you transfer the template onto your fabric. Sewing pattern ni bukan sewing project kits. Sewing pattern tak sertakan bahan2 raw that is need for you macam sewing project kits do. Tapi dalam sewing patternni ade satu part yang listkan materials needed for that particular pattern like, how many yards fabric, how many buttons required, how many yard bias tape you'll need and other sewing notion that is necessary.
Sample of paper inside the sewing pattern pack
14. You ade jual ke baju, dress, skirt yang dah siap as listed dlm store you ni tak?
Owh..tidak sayang hehehe! Means..i tak jual baju-baju kids, skirt, bag yg cute miut as shown in the sewing pattern picture. I only sell you the pattern. You can buy the pattern and sew it yourself or get a tailor to sew it for you instead :D